Once a month, we grab a toenail clipper and trim our toenails so easily. It hardly takes a few minutes to get rid of the excess toenail growth, dirt and grime stuck in the corners. We barely think about this part and enjoy life carefree. Unfortunately, 5% of the Australian population can't enjoy this carefree toenail trimming session. An estimated 1.2 million people are suffering from diabetes in Australia, and many of these dread cutting their toenails.
Diabetes is a metabolic disorder that can be the root cause of potential health complications. Due to the risk of nerve damage and improper blood flow, diabetic foot care becomes crucial and trimming toenails on your own is not recommended by podiatrists.
Diabetes can create havoc on your heart, nerves, vision and sleep schedule. The disorder can't even let you trim your toenails fearlessly, a sad truth. Let's discuss the aftermath of trimming your own toenails while being a diabetic and the significance of diabetic feet treatment by an expert.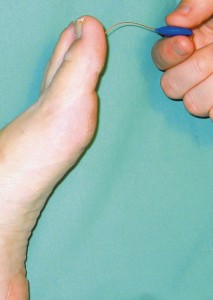 Risk of trimming toenails on your own as a diabetic
Trimmed toenails and poorly trimmed toenails are two different conditions that are often neglected by a healthy human being. However, if you are diabetic, you need to be well aware of the correct method to trim your toenails, otherwise, you will end up dealing with serious health complications.
Trimming toenails at home can result in nails beingtoo short or too long.Additionally, there is a risk of cutting the skin near the toenails. Shorter toenails can be painful as they lead to ingrown growth.
The potential cracks, cuts or ingrown toenails create a big risk of infection, which can be deadly for a diabetic because:
Diabetes often affects the vision and makes you unable to properly see what's going on around your toenails.
Diabetes causes nerve damage and loss of sensation. A minor cut can't be felt or noticed by a diabetic. When left ignored the cut or crack can become a breeding ground for germs and bacteria.
A poorly trimmed toenail can result in severe infection which leads to the risk of amputation.
Corns, calluses, grown-out toenails or the basic hygiene of a diabetic foot should not be tackled without expert supervision. It is not recommended that a diabetic trims their own toenails as it increases the risk of severe infections and amputations.
Diabetic foot care
Diabetics are often seen struggling with foot problems because of the disrupted blood flow. You need to work hard to manage your blood sugar levels and keep the complications of diabetic neuropathy at bay. Following are some useful tips that you should follow for rigorous diabetic foot care:
Cleanliness: Foot hygiene is of utmost importance for a diabetic. Wash your feet daily but avoid any cleansing routine that makes the skin dry. On the other hand, pat dry your skin thoroughly but apply moisturiser sparingly. Indeed, dry skin is a challenge for diabetics but using too much moisturiser can make the skin moist between the toes and invite infection causing germs.
Footwear: Pay attention to the quality of your shoes and socks. Keep your feet warm during winters but never use socks that create sweaty feet inside your shoes. Wear properly fitted shoes with ample cushioning and moisture wicking socks. Get expert guidance to choose the right set of socks and shoes for you.
Foot assessment: Make it a daily habit to check your feet. Use a magnifying mirror, make sure there is proper lighting in your bathroom and check thoroughly around your feet. Any signs of redness, cuts, scratches, blisters, sores, tenderness, corns or dryness should be addressed immediately.
Toenails: The potential risk factor of trimming your toenails are listed above. Thus, it is highly recommended to book an appointment with a podiatrist for general diabetic foot care, including maintenance of your toenails. For an overall assessment of your skin and nails, diabetics should schedule regular appointments with a podiatrist. Regular visits are helpful in reducing the risk of fungal toenails or the danger oftrimming the toenails too short or too long.
Rather than self-treating the corns or self-trimming the toenails, a routine visit to a podiatrist is helpful. The experts can also guide you with all blood flow and nerve damage related problems. Timely diagnosis and treatment of such disorders can reduce the risk of deadly infections or amputations.
How often should you visit a podiatrist for a diabetic foot exam?
Even if you believe that you are well-educated to trim your toenails safely or have someone around to help you with the task, a routine visit for a diabetic foot exam is still highly recommended.
Consultation with a podiatrist should be done at least once a year or more frequently depending on the degree of peripheral neuropathy or diabetes level. Proactive foot care is crucial for an individual with uncontrolled blood sugar levels.
From toenail issues to skin problems and from blisters and corns to wound care, everything is handled efficiently by a podiatrist. For regular diabetic foot exams and safe trimming of your toenails, consider booking an appointment at Suncoast Podiatry. It is a highly recognised clinic, where board certified podiatrists offer the most advanced Diabetic Foot Treatment. Visit the link given below to talk to the podiatrists about your diabetic foot care.
https://www.suncoastpodiatry.com.au/contact-us/