A recurring doubt among our clients is related to the walls of their home. Doubts arise when they have to choose the method with which we will decorate the walls, that is: paint or yellow wallpaper for walls. A difficult decision that from our interior design studio we want to help solve.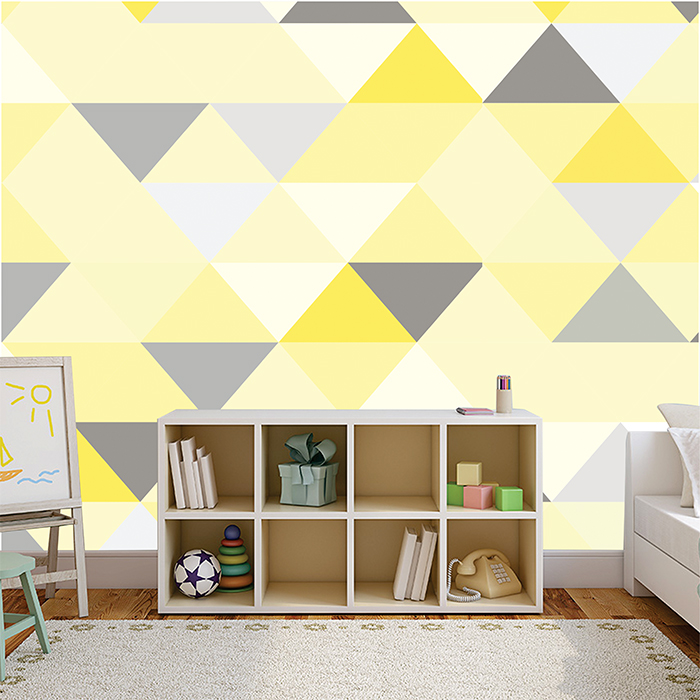 So, if you have recently acquired a new property or simply want to give your home a facelift, keep reading because then we are going to reveal the advantages of each of the techniques.
ENDLESS POSSIBILITIES
From uniform colors to degraded tones, through the combination of different shades in the same room. The color palette of paint is immense and the possibilities endless. At MyCuteStickons we love designing spaces with white walls , they multiply light, visually expand the room and are essential in small apartments.
SIMPLE TO CHANGE
A very important factor to keep in mind if you are one of those who get bored easily, since, when you get tired of a certain color, all you have to do is replace it with another and your room will look totally new.
GREAT RESULTS WITH LESS COST
In general, painting a room is cheaper than wallpapering it. However, quality wallpaper has a longer useful life, so over time the costs equalize. As we told you before, if you are one of those who like to change the decoration regularly, painting is your best option.
WALLPAPER: AN ELEGANT OPTION AND NOT ALWAYS SO RISKY
In the market there is an infinity of wallpaper with all kinds of patterns. For the most classic, geometric or floral designs never go out of style, although the most innovative brands have created impressive papers with optical effects. The options are endless and thanks to the development of digital printing the cost of designs has been reduced.
EASY TO REMOVE AND PUT ON
The new wallpaper models are very easy to apply and remove. It can be removed at any time without any difficulty and thus renew the room at any time. This makes changing the decoration very simple and economical.
IDEAL FOR CHILDREN'S ROOMS
Wallpaper has many benefits in children's rooms: it is easy to clean, it can be customized to the tastes and concerns of the little ones and it also helps to boost imagination and creativity.
EASY TO CLEAN
A dream comes true. Modern wallpapers are very easy to clean, but keep in mind where you want to place it to choose one or the other; because there are more or less resistant. For example, in the kitchen or in the bathroom, vinyl wallpapers work perfectly.
As you can see, both paint and wallpaper have their advantages when it comes to decorating a Wall Stickers For Kids Room. The painting completely modifies the appearance of any house, and the colors or patterns to choose, many times, are usually the main axis of indecision.
At MyCuteStickons, we understand that interior design is an art . For this reason, each of our projects is aimed at satisfying your needs, where every corner, every detail is important.