The V World 2.0 virtual social platform combines social networking, gaming, and interactive experiences. Users can create avatars, interact with others, attend virtual events, explore virtual locations, and engage in various activities in a unique and immersive virtual environment. A rich and dynamic virtual world that encourages creativity, communication, and entertainment is offered by V World 2.0.
How To Download V World 2.0:
Here are the steps you need to take to download V World 2.0 and embark on your virtual journey:
•Visit the Official Website: Check out V World 2.0's official website.
•Choose Your Platform: Please select V World 2.0 based on your device's operating system (Windows, macOS, Android, iOS, etc.).
•Download the Application: The application file can be downloaded by clicking the download button or following the provided links.
•Install the Application: Run the installation file once the download is complete and follow the on-screen instructions to install V World 2.0.
•Create an Account: Launch the application after installation and create a new account by providing the necessary information. Log in your existing credentials if you already have one.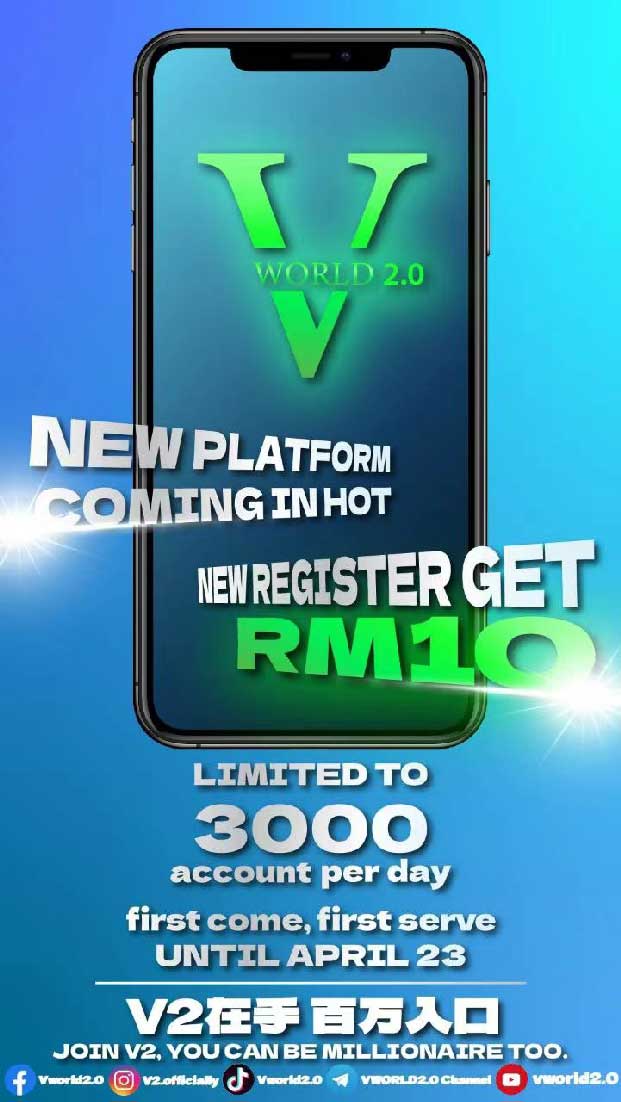 Benefits Of V World 2.0:
•Virtual Socializing: Socializing in a virtual environment is made possible by V World 2.0. Meet new people, connect with friends, and interact with individuals from all over the world. A rich and immersive social experience can be provided through text, voice, and video chat on the platform.
•Personalized Avatars: Avatars representing you in a virtual world can be created and customized with V World 2.0. Clothing and accessories allow you to express your personality and style.
•Virtual Events and Activities: Virtual World 2.0 hosts various virtual events, including concerts, parties, exhibitions, and workshops. As a result of these events, you have the opportunity to share experiences, attend virtual performances, and participate in collaborative activities, fostering a sense of community and entertainment.
•Exploration and Adventure: V World 2.0 consists of a vast virtual landscape that combines stunning locations, themed worlds, and interactive environments. Discover endless virtual adventures, hidden treasures, and unlock new areas to explore and discover.
•Creative Expression: Creative expression is encouraged through various means, such as designing virtual spaces, creating artworks, or developing virtual products. Users can showcase their talents and share their creations with the community through V World 2.0's tools and features.
Faqs On V World 2.0:
Q: Can I use V World 2.0 on multiple devices?
A: Logging in with your account credentials allows you to access V World2.0 across multiple devices. Your virtual experience can be continued seamlessly across devices.
Q: Is V World 2.0 free to use?
A: V World 2.0 can be downloaded and used for free. The platform may, however, offer some features or virtual items for purchase.
Q: Can I create my own virtual spaces in V World 2.0?
A: V World 2.0 allows users to create their own virtual spaces, such as rooms and virtual worlds. A personalized virtual environment can be created by designing and decorating these spaces according to your preferences.
Conclusion:
V World 2.0 offers a virtual social experience combining social networking, gaming, and interactive exploration. You can connect with others, unleash your creativity, and participate in exciting activities when you download and immerse yourself in this dynamic virtual world. If you prefer social interaction, creative expression, or virtual adventures, V World 2.0 will enhance your virtual socializing experience. You don't have to wait any longer - download V World 2.0 and embark on an extraordinary journey today.